More than 130 years old. And the fish is fresh from this morning
Jacob Kongsbak Lassen is a specialized family business , now run by the 3rd, 4th and 5 generation for whom history and the name oblige.
Generations are different. As it obviously should be. Each generation contributes to new and different ways of doing things . And this is how we ensure innovation and renewal. But the foundation continues to build on the vision and values of our great-grandfather and founder , J. Kongsbak Lassen, started the company in the over 130 years ago. Join us on our journey through the story below.
1883 – the company is founded
Former fisherman, J. Kongsbak Lassen comes from Saeby to Copenhagen and start as supplier of fresh fish to the fishmarket at Gammel Strand . A deal here would usually be decided by ' lidkøb ' , for example a beer or schnapps . And although Mr Kongsbak Lassen did not even drink , he knew the game of at lidkøb well.
1915 – 2. generation joins the company
J. Kongsbak Lassen dies and his youngest son , Jacob , takes over the company at the age of only 16 years.
1946 – innovation in the industry
Jacob Kongsbak Lassen is among the first to start selling plaice in boxes, which results in a fixed transport route to Copenhagen from Skagen and Hirtshals. Jacob Kongsbak Lassen also introduces throat cut cod as a new feature in the fishing industry - much to the annoyance and irritation of his competitors .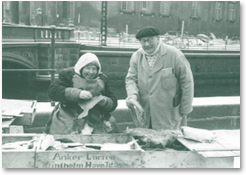 1958 – 3. generation takes over
Jacob Kongsbak Lassen change Gammel strand out with Kalveboderne - now with warehouse and many other new features. The son Nils takes over operations due to illness of his father.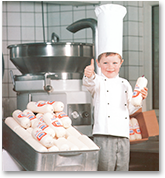 Nils Kongsbak Lassen strengthens the company based on merger and purchases of a.m.o. Otto Tvillings tradestores at the Fish Market , Danish Andelsfisks tradestores , Heino Fish, Femerling Fish, Sommerhøj Fiskefars and Sweden's leading salmon smokehouse, Sven Englunds Laxrökeri in Malmö.
1999 – we do it differently
The old fish market at Kalveboderne moves to North Harbour. But Nils Kongsbak Lassen choose, unlike his colleagues, not to move in and instead relocated to the White Meat with good local conditions and opportunities for expansion . A location that has proved very important to the company.
2014 – a Royal Crown and a couple of generations join the company
4 and 5 generation is now also involved in the operation of the business . Jacob Kongsbak Lassen, now supplier to the Danish royal court, is focused on supplying fish of the highest quality – as the company has been for over 130 years.